Rabbis and Staff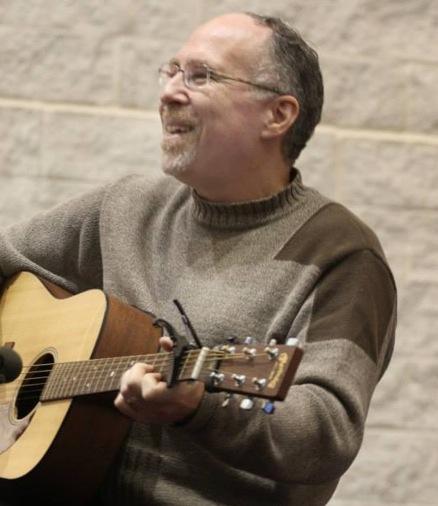 Shawn Zevit, Lead Rabbi
Rabbi Shawn is a dynamic and widely-known liturgist, teacher, singer, author and consultant to Jewish communities. He is a 1998 graduate of The Reconstructionist Rabbinical College and worked for the Jewish Reconstructionist Federation for 14 years as the Director of Congregational Services, Outreach and Tikkun Olam. In 2023, Rabbi Shawn celebrated 25 years as a Rabbi and 10 years at Mishkan Shalom.
Rabbi Shawn has been a sought-after teacher and leader of spiritual practice programs, including co-director of the award-winning Davennen Leader's Training Institute, where he coaches rabbis, cantors and lay leaders of all denominations. He is also a spiritual director for the ALEPH Hashpa'ah program. He has consulted with myriad congregations, organizations and social justice initiatives in the Jewish and secular world.
An accomplished singer and guitarist, Rabbi Shawn is a founding member of the popular Jewish musical group, Shabbat Unplugged. He has led Shabbaton programs, and has been Guest Artist and Scholar-in-Residence in more than 100 congregations and havurot. Among his many publications is his most recent book Brotherkeepers: New Explorations in Jewish Masculinity and Offerings of the Heart: Money and Values in Faith Community.
Rabbi Shawn and his wife, Rabbi Simcha Zevit, make their home in Mt. Airy. Their children/stepchildren and granddaughters live in Cleveland, OH.
---
Maria Paranzino, Office Administrator
Maria joined Mishkan Shalom in September, 2005. She skillfully juggles the varied needs of the Mishkan office and daily interactions with our rabbi, staff, board, congregants, vendors, visitors and renters. She is a degreed professional with experience in business administration, marketing, and event planning.
Maria has been married for 40 years and in addition to her children she has three wonderful grandchildren! She is a lifelong resident of Roxborough with strong ties to the Mishkan community and the surrounding area.
---
Lynn Edelman, Communications Manager
Lynn has served as Director of Corporate and Public Communications for the Jewish Federation of Greater Philadelphia, as Managing Editor of the Jewish Voice of Delaware and as Press Officer for the Consulate General of Israel for the Mid-Atlantic Region.
She is, at heart, a storyteller who continually strives to create messages that engage, inspire and motivate readers. Lynn hopes that the copy she crafts for media releases, newsletter articles, email blasts and other venues reflects the image of Mishkan Shalom as a progressive, activist congregation where Jews of diverse backgrounds, lifestyles and levels of observance can feel welcome and valued. She helps keep Mishkan congregants up to date on the latest news about Mishkan programs, activities, and special events and oversees Mah Hadash, the weekly newsletter.
Lynn and her husband, Mitch, live in the Spring Garden section of Philadelphia where often attend Phillies games and participate in the many rich arts and cultural experiences that our city offers. Lynn is the mother of two adult sons. Lynn is an active member of Congregation Rodeph Shalom, in Philadelphia, PA.
---
Holli Goldenberg, Education Director, Teen & Tots Coordinator
Holli is an accomplished educator by profession, currently working as a district administrator within the school district of Philadelphia. She oversees the English as a Second Language program at multiple district schools. Holli has experience in both formal and informal Jewish education and has a background in theater. Her favorite part of the job is getting to see so many children grow up at Mishkan! She says "it's really special to be able to see a child grow from Tot Shabbat to Congregational School and expand their Jewish learning!"
---
Gabrielle Kaplan-Mayer, Curriculum Developer, Teacher Support
Gabrielle Kaplan-Mayer began her work with Mishkan Shalom as a teacher in our school in 1998 and considers Mishkan to be one of her spiritual homes ever since! Her family--husband Fred and kids George and Jeremy--have also been part of the Mishkan community for many years. Gabby is now the curriculum creator for the Mishkan school and also leads children's services for the High Holidays.
She is well-known as an author and Jewish educator whose work focuses on spirituality, creativity, and disability Gabby is the proud recipient of the 2022 Covenant Award and currently edits the Jewish Disability Inclusion News
She also leads Feed Your Spirit Writing, facilitating expressive writing workshops focused on spiritual curiosity and also writes a Substack called Journey with the Seasons, a weekly practice of meditative reading, expressive writing prompts and deepening practices.
---
Noah Dor Lind, Rabbinic Intern
Noah Dor Lind is an artist and third year Rabbinical student dedicated to building religious communities that value mindfulness, radical love and transparency. We are excited to be welcoming Noah for a second year at Mishkan Shalom! For much of their childhood and early adulthood Noah lived in different parts of the Pacific Northwest. They graduated from University of Oregon with a Bachelors in Digital Art. After university, Noah moved to Chicago. During the day Noah worked as a restaurant host, a math tutor, and a marketing administrator to pay their bills. During their evenings and weekends they volunteered with young artists in Logan Square, helped raise money for charitable organizations through DIY basement performances, and explored a diverse range of spiritual practices in their weekly sacred book club. Noah's background in visual narrative informs every aspect of their future rabbinate. They believe through art and storytelling we can create a more human world.
---
Brian Walt, Rabbi Emeritus
Rabbi Brian Walt was the founding Rabbi of Mishkan Shalom and served as Rabbi from 1988-2002.
---
Yael Levy, Rabbi Emerita
Rabbi Yael Levy was a Rabbi at Mishkan Shalom from 1993- 2020 for 28 years. Rabbi Yael is the founder of A Way In, a Jewish mindful practice and the author of multiple books.
Fri, December 8 2023 25 Kislev 5784